Late snow in the end of April
Late snow in the end of April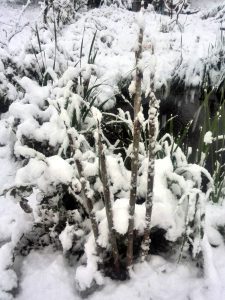 After several weeks of extremely nice and warm weather, polar blast brought much lower temperatures and a 'shipment' of heavy wet snow. Most of bamboos already started shooting some time ago, trees are all leafed-out and most of the fruits have already flowered. The day started warm with strong southern wind, but the wind direction changed instantly, heavy low altitude black clouds appeared temperature dropped from around 15°C to just a bit above freezing. When it darkened in the middle of the day, thunderstorm brought sleet and first half melted snow which instantly started to pile up on plants, even if the soil remained warm enough to melt it.
It snowed for the rest of the day and by early evening, I could hear distant breaking of tree branches. Luckily it only snowed for a couple more hours and stopped completely by the end of the day. Total amount of snow was around 15cm. Considering the fact that a lot of it melted, because of nicely warmed ground, there might have been more on the completely flattened bamboo.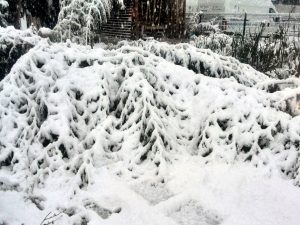 Like I already mentioned, most of my bamboos already started shooting, especially early shooters like Fargesia sp. 'Rufa' and Phyllostachys edulis 'Moso'. These two started shooting early this year and many smaller shoots already started poking over the canopy of last year's culms. All those shoots were not nearly hardened enough to handle the weight of heavy snow alone, not to mention the weight of whole bamboo flattened to the ground. Large Moso shoots have been growing on the northern side of the older clumps and that's what saved them from breakage – bamboo grew more leaves towards south and the culms always fall down into south-eastern direction.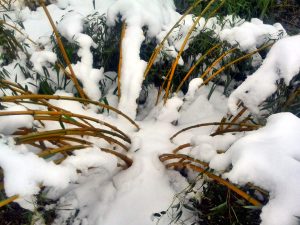 Phyllostachys aureosulcata 'Spectabilis' was lucky to have started growing the shoots slowly. The largest shoots were pushed towards the ground by the weight of the culms, but so far, there's no visible damage, even if they point into different direction. Other bamboos were only slightly damaged, because new branches already started to grow, shoots were either too small or not existent.
When the snow finally melted, most of the shoots that were bent to the ground recovered. Some of them snapped and died off, but most of them recovered with culm deformation which resembles genuflection, often seen on P. aureosulcata.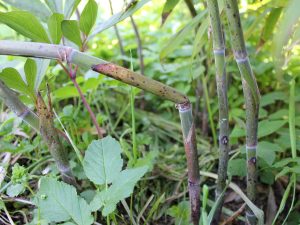 None of the larger shoots got damaged and they took off instantly after the snow was gone.
Fruit trees and walnuts were also lucky enough to survive without a lot of breakage. Could be much worse if there was just a little bit more snow.