How to propagate Drosera cuttings in water
How to propagate Drosera cuttings in water
When I took my Drosera capensis seedlings inside for the winter, I've had severe aphid infestation. To battle the vermin, I used strong insecticide diluted in distilled water. It removed the vermin and only removed the dew for a couple of days. After that the seedlings looked better than before treating with insecticide. When I saw they have lost their dew and started curling their tentacles as if they would have caught something, I thought about loosing the poor seedlings and whole year of growing would become wasted. As they recovered, I started thinking about making leaf cuttings.
Compared to growing from seed, Drosera cuttings are way faster option. Seeds are extremely tiny and can only hold small limited amount of food for a fresh seedling to start growing. With cuttings, there's much more energy stored in the leaf, which eventually grows roots and tiny plantlets and restart considerably faster. I usually prefer growing seedlings as it's usually a bit more rewarding. With cuttings, you always get the plants with identical genetic material, great thing if your mother plant is worth cloning. Drosera species are often able to produce hybrids – some are completely sterile and therefore can't produce viable seeds. In that case, asexual propagation is the only option.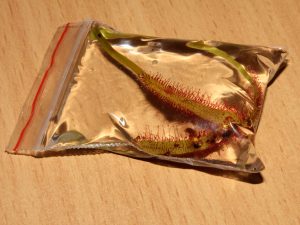 I decided to try taking a couple of whole Drosera capensis leaves and placing them into zip-lock bag, filled with distilled water. All parts of plant can be used to create cuttings as long as they are alive, so I also took a couple of flower stalks from the flowers that already ripened and started turning yellow. I tried some of the yellow and some of still green parts of the flower stalk. I placed the bags right next to other Drosera plants under strong growing lights. Usually leaves can be cut into 2.5cm (an inch) long sections, but I just squeezed the leaves into the bag and only cut down the flower stalks. When they start rooting, leaves can always be chopped between the newly emerged plantlets before planting.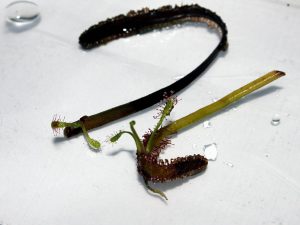 It was not the best idea to use zip-lock bags and I had to throw away a couple of them, before they actually started growing small plants. I did not clean the leaves and there were also some remains of captured insects that made the water cloudy and perhaps even caused some of the leaves to rot.
In a bit less than two months, small plants emerged from leaf cuttings. First, they pushed out a couple of carnivorous leaves, and in a couple of weeks, first roots followed as well. By using stored energy from the mother plant's leaf, they tend to grow much faster than plants propagated from seeds, which means propagation of Drosera by cuttings is way faster and more efficient, at least for Drosera capensis.