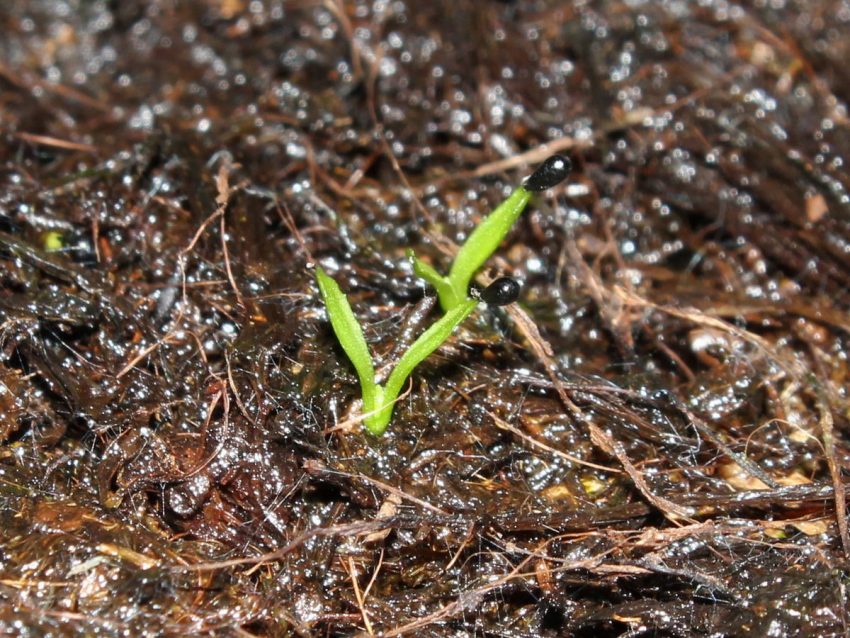 Growing Dionaea From Seeds
Growing Dionaea From Seeds
Buying Cheap Dionaea Seeds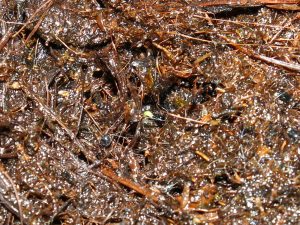 I tried my luck by buying Venus Flytrap (Dionaea muscipula) seeds on eBay. As I've already found out, it's not really the best idea to buy carnivorous plant seeds from eBay or Aliexpress. It's almost impossible to receive the seeds you would like. I've learned my lession when I bought Carolina Reaper and Trinidad Moruga Scorpion Chili seeds. I received some seriously interesting hybrids and a nice collection of yellow, red and orange habaneros. Despite my better judgement, I decided to try getting Dionaea muscipula seeds from 3 different sellers. I have bought Dionaea 'Dark Red' (10 seeds) and a bag of mixed random seeds (15 seeds) that might be crosses of who knows what from German seller.
The seeds arrived quickly and I planted them on January 3rd. In a bit more than two weeks, first seeds started sprouting. In the pot with red form, the first sprouts actually arrived with a red tint. The sprouts of VFT seedlings from the Dionaea mix seed pack on the other hand all appeared green. Perhaps the seller was truthful after all!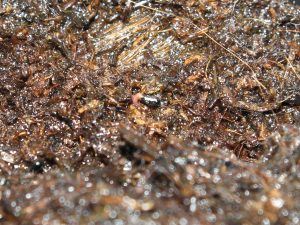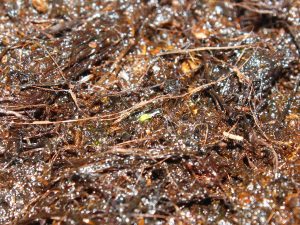 I also bought two packages from different Chinese vendors. 10 Dionaea Muscipula Giant Clip seeds from eBay and gigantic pack of 100 Red Dragon Flytrap seeds from Aliexpress. The first package did not arrive after more than a month and the seller kindly offered to send me another package. The large pack of seeds from Aliexpress arrived quickly and I have instantly noticed that the seeds looked different – I've been scamed. I opened a dispute and got my 40 cents back. 🙂 I might try to grow the fake seeds and write about what the seller actually sent.
The seedlings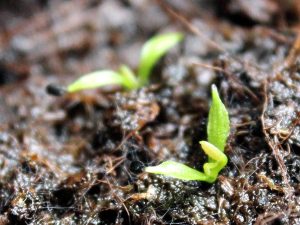 The seedlings grew faster than I had expected. I was a bit worried they would not do well in pure peat, but they accepted it quite well.
I have decided to remove the plastic cover as soon as I've seen that most of the seeds have sprouted. Mold was already starting to grow as there were white threads growing all over the wet peat. Uncovering did not harm the seedlings. I was doing my best to keep the air moisture as high as possible. Air humidity was between 40% to 60% during most of the time.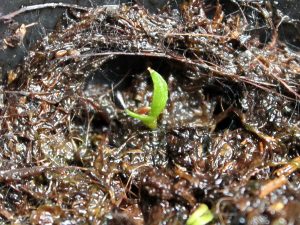 Seeds from Dark red cultivar were showing sings of red coloration from the early start. Cotyledons seem to be a bit darker green, but as soon as the first carnivorous leaves appeared, the red color was evident. Strangely, the pot with mixed seeds should also have red variety, yet none of the 15 seedlings turned out to be red. Most of the seedlings pushed out one true leaf at once, but there were a few that managed to start with two. There was some diversity among the seedlings. Some had thick and others narrow cotyledons, there was one, with only one, conjoined cotyledon, some were more glossy and some had rough edges.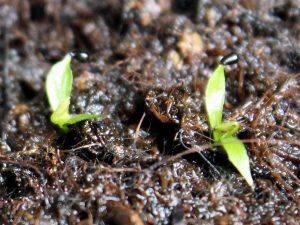 As the young seedlings grow and mature, it will be fun to see if any of them starts showing some kind of unique characteristic that would make it different from other Venus Flytraps. Seller took the seeds from cross-pollinated  plants, grown outside in the open, which means the resulting seedlings can be interesting. I hope to get some interesting and hardy Flytraps from these seeds.
I'm definitely going to grow more Dionaea seeds in the future, but before that, I want to go step further by growing Nepenthes seeds. I am trying my luck again by purchasing the seeds online. Wish me luck, I will need it! 😉