Borinda fungosa winter damage 2016/2017
This winter was quite brutal. Temperatures did not plunge lower than normal, but it got cold enough for the soil to completely freeze down to 0.5m and even deeper. With no snow cover to protect the delicate Borinda leaves, it stood little chance to survive the winter.
The cause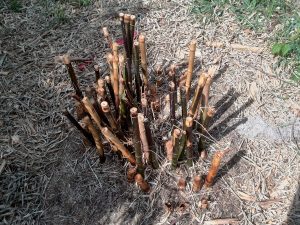 During early winter, there was no visible damage on any of my bamboos, even Borinda fungosa (gaolinensis?) fared much better than I expected. But then came a period when we received no snow, only freezing temperatures that remained below freezing even during the day. Combined with cold north eastern winds, soil cooled off considerably and it froze much deeper than usual. It remained frozen for quite some time, even when temperatures rose above freezing.
The damage
When temperatures got back to normal and after some "warm" rain, leaves lost their green color and it became evident that bamboo ended up completely top killed. Culms were all noticeably bleached, green culms had the darker green, somewhat watery appearance. At that point, I was sorry I didn't tarp the bamboo and try my best to protect it. It all seems now, that no protection could have save it this winter – the weather was just too much for a marginal bamboo like Borinda to survive intact.
The awakening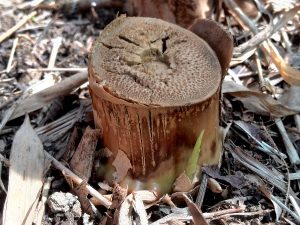 In early spring, we've had a period of extremely warm weather which had awaken all the bamboos, including the badly damaged Borinda fungosa. I have completely removed the dried out culms and I soon noticed a couple of survival shoots, pushing out from the base of dead culms. Until now, there are no regular shoots that would prove that the bamboo is going to recover. I hope there are healthy rhizomes with undamaged rhizome buds below ground. Usually the first shoots appeared around mid May, hopefully they will push out this year as well.
The conclusion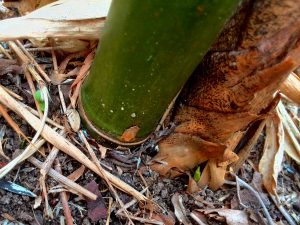 Borinda fungosa I've been growing from seed for 6 years somehow managed to thrive in this marginal climate. It got damaged during the winter and didn't like the heat in the summer, but it managed to grow and upsize into a very decent bamboo. This winter was not typical for us. At least not statistically. It's sad that the same climate pattern started to repeat itself almost every year. Almost no winter precipitation, cool northern wind and sunny weather can dry out even more winter hardy bamboos. As if the winter was not bad enough, we were recently hit by a nasty late spring freeze. My Borinda doesn't have the best growing conditions in my garden. It may perish in a year or two even if it survived this winter.