Borinda fungosa update 2016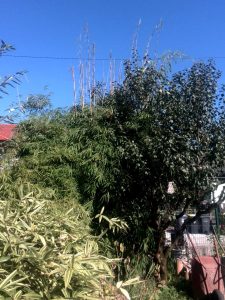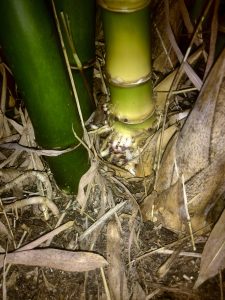 This growing season, Borinda fungosa seedling was 5 years old. Like during it's previous seasons, it started shooting late in the spring and managed only to push out a couple of shoots that were about the size of last year's growth.
We've had relatively mild winter last year. Since there was not enough snow, to protect the bamboo, like year before, there was some damage. Most of the late summer shoots have been defoliated completely, fresh branches died off, but the culms remained alive. Most of the unbranched nodes restarted by mid spring. This year, one of late autumn shoots actually remained alive and started growing when soil temperature got high enough.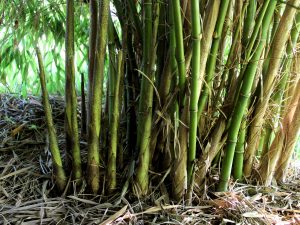 The shooting season began early, because one 3cm tall shoot from previous autumn managed to survive the winter. As usual, spring shots are roughly the same size as large shoots from previous year. With a bit more damage than usual, seedling lost at least 6 fully grown culms during the winter. Winter damage is probably the main cause of smaller upsize this year and very bad spring shooting cycle. The late summer / autumn shooting, however, ended up "heavier" than ever. Shoots are not much larger, but they really came out in great numbers this year.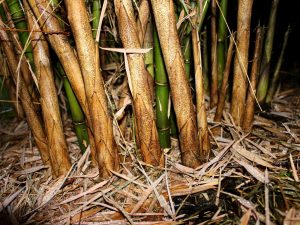 The summer was quite dry, with abundance of sun and mild summer temperatures that never reached more than 33°C. Night temperatures also remained below 20°C most of the time. Leaves remained healthy and green throughout the whole summer. I was watering it occasionally, especially when the weather remained dry for longer periods of time in late summer. Borinda fungosa is supposed to look bad in warm and dry weather, but it seems that with maturity, the plant became resilient enough to withstand strong, full sun exposure. Seedling behaved differently from any of my bamboos from the early beginning. The shooting is usually completed in about 2 months. Not the case with my Borinda. Shoots are maturing throughout the whole season, and only the earliest shoots manage to harden off completely before the winter cold destroys all the branches that are still soft. During summer, it looks healthy, but it's growth slows down considerably. With cooler weather in late summer it starts growing faster and doesn't stop until hard frosts kick in.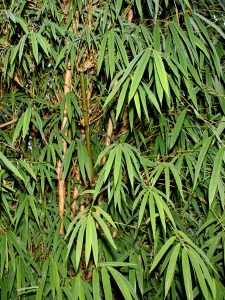 So far the vigor and overall appearance of Borinda fungosa seedling is surprisingly good. Due to the fact, that it grows in marginal climate with cold winters and (too?) warm summers, it grows extremely well. It survived cold, drought, heat, got infested with insects, rodents,… It grows faster than all of my Phyllostachys seedlings, including my vigorous Phyllostachys pubescens 'Moso'.